PLEASE READ THIS:
!!!STOLEN GO-PED!!!
The go-ped I was selling was stolen out of my garage a few days ago. When I find out who did it I'd like to take a bat to their head. But until then, I am very pressed for cash and need to by a car this summer.
I HAVE A FEW THINGS FOR SALE IF ANYONE IS INTERESTED:
ltjs@hotmail.com or xericx@mailcity.com
For Sale, Custom Limo Go-ped!!!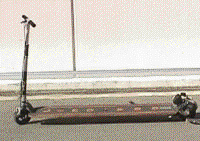 Similar to the picture. E-mail me if you are seriously interested. ltjs@hotmail.com or xericx@mailcity.com
1. A roll of LESS THAN JAKE toilet paper. A must for the ture LTJ fan. MAKE ME AN OFFER
2. A Laser Pointer with different caps for different shapes and pictures. Pretty good distance beam. $40
3. Box of about 500 Star Wars CCG (colectible card game cards). Including rare cards such as Hans Solo, Chewbaca, and a Corellian Corvette Ship. $100
4. Time Crisis Game for Playstation. Includes Guncon Gun that hooks up to the TV. Comes with everything, including cheat codes. $40
5. You want over 30 awesome cars for the Gran Turismo Game? Having trouble getting that A International Class License? If so, I'll put the cars in your garage on your memory card and you can still keep your old cars in the same garage. Plus you'll have an A International License so you can race more tracks. Just send me your memory card along with $8.
6. Gran Turismo Case and both Instruction Booklets. DOES NOT INCLUDE THE GAME CD. $10
7. A Book Full of all the LESS THAN JAKE bass, guitar, and horn tabs on this site. Including Some extra tabs from Goldfinger, the Aquabats, Pietasters, etc. $10 each
9. And please buy any CDs by clicking on the link at the top of this page. Thanks.



I'd like to take this opportunity to inform you of a service. If you want to make a webpage, but don't know how, I will make one for you. If I do, all I ask is a payment of some sort. It doesn't have to be money. Make me an offer by clicking here
Be sure to check at the bottom for requested songs.
Click here for some cool midi sounds
Since the summer is approaching I willl have time to tab some songs and post ones that I have not posted yet. Request a song from Less Than Jake or any band you want and I'll try to get around to it. During the summer I plan to start a new site with tab from many other bands. Please click on the sponsors. It won't take long. And if you want to buy some LTJ cds click on the buy cds section and buy them at amazon.com from my link, because it helps me and you.
THANKS
TAKE ALL THE TABS YOU WANT, BUT IF YOU DO GIVE THE TRANSCRIBER CREDIT AND I'LL PUT A LINK TO YOUR PAGE IF YOU LINK MINE. THANX.
---
Requested Songs
Never Going back to New Jersey by Less Than Jake

Any Horn Tabs from Less Than Jake

---
-------------------------- DISCLAIMER THINGY --------------------------

---->If you read Japanese then I suggest this site<----

©1998